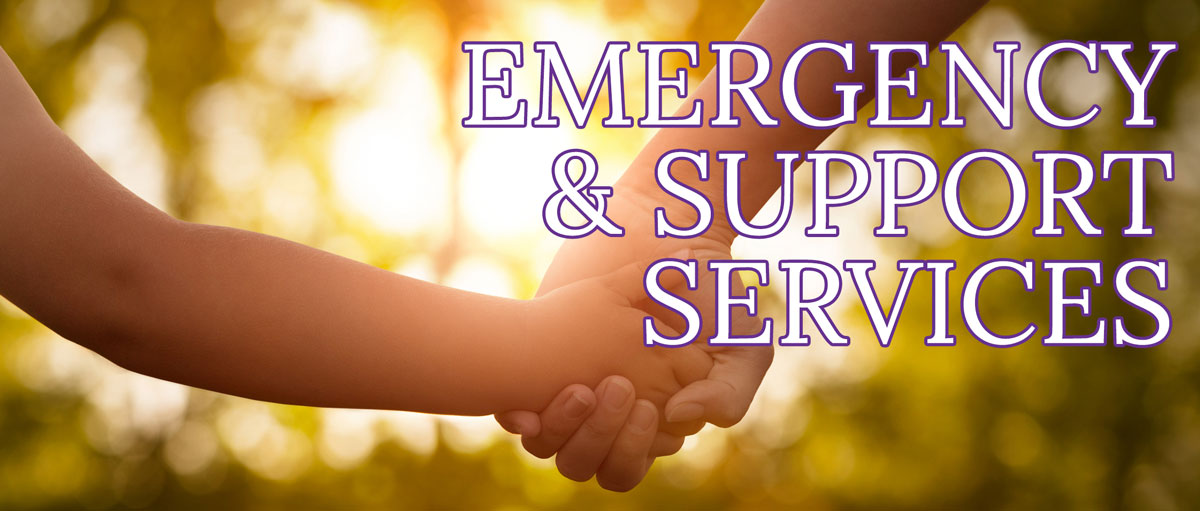 Emergency & Support Services for Women, Men, and Children
Women and Children
First and foremost, at COPE, we believe that every life is of value and is worth saving and protecting. With that premise in mind, we are equipped to provide immediate and safe lodging to families escaping violence. Our emergency shelter is a place of regeneration, where women can find rest as they reconnect with themselves and their children in a safe, caring, and supportive environment. Everyone's situation is different: Some stay for the night; some as long as a month. However long they're here, they will find the support they need to break free from the daily threat of oppression and violence.
Families under stress produce children under stress. Whether they witnessed violence at home or endured abuse first-hand, children enter COPE with a distorted sense of self and an altered perception of family life. We have a staff of advocates experienced in helping children recover and reconnect with their parent and siblings.
Men
Women aren't the only ones who face family violence in their lives. Often men are trapped in abusive relationships simply because they won't "fight back" when the abuser is of the opposite sex. They've been taught their entire lives to "man-up". Leaving often makes them feel like a failure. This could not be further from the truth: It takes a much greater man to walk away, than it does to simply stay. Whether the abuse occurs within a marriage, domestic partnership, or dating relationship, we can offer assistance by providing short term, safe housing at one of the local hotels. Men are entitled to the same outreach services as the women who utilize COPE's varied resources.
Contact COPE
Office: 417.533.5201
Hotline: 417.532.2885
Safety Plan When at Home
Pack a 'go pack' where your abuser won't look.
Have an escape plan if things get dangerous.
Plan with your children
Have a code word you can use to alert danger with someone you can trust that your abuser won't expect.
Collect telephone numbers of agencies and services that can help you and Keep these where your abuser won't find them.
Safety Plan When Leaving
Remember that things are replaceable. Your safety is the most important thing to focus on when leaving.
Do not tell your abuser your plans
Contact a family violence program and find a safe place to stay – a shelter or other place where your abuser won't find you
Bring your children with you if possible
Bring important medications with you.
Bring all of your important papers with you: driver's license, car titles, birth certificates, your "go pack", and social security cards for you and your children.
Bring a set of car and house keys
Bring a change of clothes for you and your children.
Frequently Asked Questions
Will I be sleeping on a cot in a large room with others?
No, our shelter rooms are reserved for either adult or family living. Adult rooms can accommodate up to four single women. Our family rooms are normally used for one family, but at times, can accommodate two small families.
What other facilities does the shelter offer?
In addition to comfortable beds, linens, and items you need for your personal care, the shelter facility offers you everything you will need during your stay. Laundry faculties are provided. Telephones are available for your use. Common areas are available to share with your housemate; a fully stocked kitchen, large dining room, living room, kids' corner, computer station, a kids playground and covered patio.
What can I bring with me to the shelter?
We have no ability to store personal belongings so you should only bring your important documents and items essential to you and your children's personal care including clothing, medications, toiletries and personal hygiene items.
What if I have to leave my personal items behind?
If you must leave essential items behind, your case manager will work with you to replace clothing, medications, birth certificates and any other vital items.
How do I seek your services?
Your first step is to get to a safe place or call 911.  After you are in a safe location, please call us at 417-533-5201.  Our 24/7 hotline is answered by trained advocates who will help you determine what your best options are.  If shelter is the best option for you, you will be instructed to go to the Lebanon Police Department for a police escort to the shelter.
What will happen when I arrive at the shelter?
Once you arrive at the shelter, an advocate will be there to greet you. After you arrive, the advocate will complete an intake interview and explain the program to you. After the intake process is complete, an advocate will give you a tour of the shelter and get you settled into your room. After you are settled in the shelter, you will meet with your case manager to determine how we can best help you during your stay.
What will be expected of me?
You will be expected to set goals for yourself and work toward those goals. All residents are encouraged to attend support groups and counseling. You will be expected to refrain from using drugs and alcohol during your stay, to abide by all house guidelines and to meet with your case manager regularly.
How long can I stay?
We are a 30 day program; however you may choose to leave at any time. During your stay, your case manager will work with you to ensure you are making progress toward your goals.
Is the shelter handicapped accessible?
Yes, we have bedrooms and bathrooms that are handicapped accessible.  The rest of the shelter is fully accessible!
Do you provide transportation?
Unfortunately, we are unable to provide transportation to our shelter. We are able to assist with limited transportation while clients are residing in the shelter.
Can my children come with me to the shelter?
Yes, children are welcome to come to the shelter with their parents. We are able to accommodate females of all ages and males up to the age of 17 in our shelter. Parents are responsible for their children at all times while they are in the shelter.
Can we bring our pets?
Unfortunately, we are not equipped to house family pets. We do however accept trained service dogs in accordance with ADA guidelines. Feel free to give an advocate a call for a list of other shelters that accept pets.
Can you help me with my legal issues?
We do have 2 legal advocates but they are not attorneys and they cannot give legal advice. However, they will be there to support you through your case. Feel free to give an advocate a call for a list of other resources.
Can you help me pay for my divorce or child custody case?
Unfortunately, we do not have the funding to pay for divorces or legal representation. But we would be happy to help you apply for legal aid. More information about legal aid can be found at http://www.lsmo.org/.
What do your services cost?
All of our services are offered free of charge!
Do you offer childcare?
Unfortunately, we are only able to offer child care during support groups.